Token Fest 2018 - The Inaugural Crypto Conference
SWAG Recaps Token Fest
Speak With A Geek (SWAG) attended Token Fest 2018 last week, the inaugural crypto conference that took place at the Palace of Fine Arts in San Francisco March 15-16, 2018. It was the first conference of its kind to focus on both the technology and business side of tokenization. SWAG spent the day speaking with top influencers in the crypto sphere and building their network of today's thought leaders. The event was bustling with CEO's, Venture Capitalists, business professionals, entrepreneurs, regulators, investors, developers, and attorneys.
"The nature of Token Fest creates distinctive networking experiences for thought leaders where the blockchain industry comes to gather," said Ryan Colby, Co-Founder of Token Fest.
Token Fest brought together over 800 leaders discussing enterprise blockchain solutions, crypto economic strategy, token analysis, smart token technology, tokenized revenue models, Internet of money, the role of tokens at the protocol level, and beyond. There was a world class lineup of industry experts presented in a series of moderated group panel discussions, including Tim Draper, Matthew Roszak, Peter Smith, Ned Scott, Jonathan Johnson, Charles Hoskinson and David Wachsman. What was most unique about this conference is the focus on networking and collaboration through shared experiences.
The conference creators took a risk by departing from the traditional format of conferences, by emphasizing networking and collaboration through shared experiences.
While the industry already has it's share of successful developer conferences, Token Fest was designed to provide an overview of the impact of blockchain technology across many industries. There was a true focus on fostering the business and collaboration aspects necessary for the industry to move forward. There were 3 epic networking events including an on-site Opening Gala as well as 2 off-site experiences.
Ryan Colby concludes, "Our team spent ten months to create something truly spectacular. Token Fest is not just another cookie cutter industry event... San Francisco will be our launch pad, however we are already planning multiple domestic and international events behind the scenes including the launch of Token Magazine, a new digital publication focused on leadership and innovation for the decentralized world."
Alexandra Liss interviewed the following in the above video:
Ryan Colby, Founder TokenFest
Christian Wentzel, Ehrenthal GPX
Thomas France, Ledger
Alex Howard, Giftcoin
Yves Daoust, IVEP Associates
Chelsea Rustrum, BlockSeven Founder
---
To learn more information about how SWAG services can help develop blockchain, artificial intelligence and all things tech related, visit https://speakwithageek.com/devservices.
Are You a Bitcoin Enthusiast Looking For Prime Investments?
Look No Further! Here's A Handful of Top Options!
Early Stage Startups Get Tech Experts With SWAG
New Startups Can Now Take Advantage of SWAGs Expertise For Technology Solutions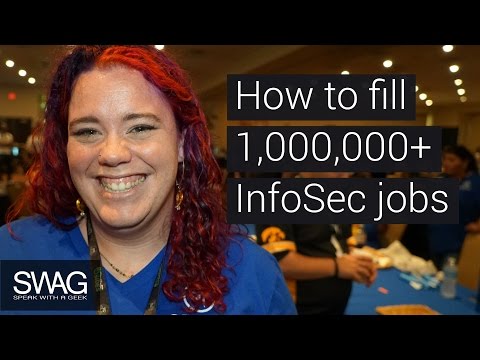 Hiring InfoSec and Filling 1 Million CyberSec Jobs in 2016
Cyber Security Experts in High Demand for Infosec Jobs